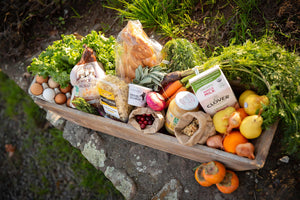 Support community and planet
Shop & Donate Fundraisers
We've reimagined the traditional "Dine & Donate" program to offer on-farm purchases as a fundraising opportunity for our local schools and non-profits.

Email hello@rustyhingesranch.com to set up a Shop & Donate fundraiser today!
How It Works
1. Purchase a Bundle
Supporters can purchase organization-specific Bundles below, up to the Monday before the event.
2. Schedule Pickup
Choose which day you would like to pick up your bundle (Tuesday, Wednesday or Thursday) at Rusty Hinges Ranch from 3-6PM
Visit the animals and shop our market during your pick up!
3. Support Community & Planet!
20% of all Bundle sales will be donated to your school or organization!
Valley Vista Elementary
Order window closed! Check your email (and junk folder) for an order confirmation and pickup info.
We currently offer home delivery to customers in Petaluma, Cotati, and Penngrove. Want on our delivery waiting list? Sign up here.
Bundle pick ups are Tuesday-Thursday at Rusty Hinges Ranch. Drive slowly up the gravel path (5MPH) and follow signs for parking.
Check-in with one of our staff with your name and they'll retrieve your order.
Grab a beverge, shop the market and visit our animals while you wait!
We publish and distribute our weekly menu every Friday via e-mail. Be sure to check your "junk" and "promotions" folders for emails from Rusty Hinges Ranch, and add hello@rustyhingesranch.com to your address book.
Substitutions are welcome! If an item in the upcoming bundle isn't necessary for your household, respond to our weekly newsletter with your requests or email us at hello@rustyhingesranch.com by 10AM the morning of your pick up with your requests.
Yes! Go to Account - Subscriptions and request your pause. Cutoff time for pauses is Sunday evening at 10pm for the following week.
Yes! We accept returns of boxes, egg cartons and any glass used as packaging in your weekly bundle. Drop them at the check-in table at your next pickup.
Home delivery customers should place returnables outside their front door prior to your next delivery.
Yes! Visit our Venue page to learn more.