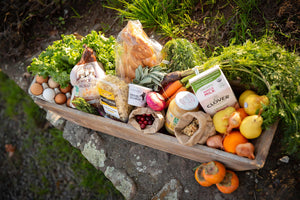 Custom grocery bundles, designed just for you and your family
1. Customize your harvest bundle
Enjoy intentional and organic, meal-focused bundles of seasonal produce, eggs, dairy, protein and pantry.
2. Add a butcher box
We've partnered with local farmers and food artisans from within 100 miles of our Petaluma ranch. Your money directly supports them and stays here in Sonoma county.
3. Choose pickup or delivery
Stop by the ranch to pick up your order, or we'll deliver it to you. Local delivery is available in Petaluma, Penngrove, and Cotati.
Use this text to answer questions in as much detail as possible for your customers.
Bundle pick ups are Tuesday-Thursday at Rusty Hinges Ranch. Drive slowly up the gravel path (5MPH) and you will see the signs to park to your left after the hedges. Walk over to the check-in table, provide someone from our staff with your name and they'll grab your bundle from our production room. Grab a glass of wine, shop the market and visit our animals while you wait!
We publish our weekly menu and recipes every Friday and distribute it via e-mail. Be sure to check your "junk" folder for the Rusty Hinges Ranch update and add hello@rustyhingesranch.com to your address book.
Substitutions are welcome! If an item in the upcoming bundle isn't necessary for your household, respond to our weekly newsletter with your requests or email us at hello@rustyhingesranch.com by 10AM the morning of your pick up with your requests.
We can absolutely accommodate a pause on your subscription. Please email hello@rustyhingesranch.com to let us know how many weeks you'd like us to push out your charge as the system backend doesn't provide a handy "pause" option for us. We require 48 hours notice to make changes to your pickup.
We accept returns of boxes, egg cartons and any glass used as packaging in your weekly bundle. Bring those with you to your next pick up and drop them off at our check in table.
Yes! Visit our Venue page to learn more.